Craftsman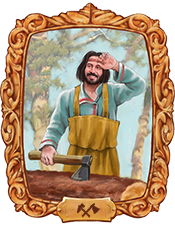 Table. The cost of teaching a vagrant the sciences to become a craftsman
| Education | Cost (gold) |
| --- | --- |
| Reading and writing | 1 |
| Arithmetic | 1 |
| Carpentry | 1 |
| Weapon training | 1 |
| Metallurgy | 1 |
Read more about the learning process in the General Education section of the game.
First of all, I recommend you visit the university - the Psychology of Success section - for craftsmen is now available to you!
Status options
Now they let you into the trading floors: the Trade Guild, the Auctions, the Currency Exchange.
You can easily dispose of the gold coins.
The Craftsman status is a worker clone, he can be employed in various kinds of work in the state institutions of the land, or in the private enterprises of other clones. I'll tell you more about that next...
Employment Opportunities:
Participation in the Partner Program of the game. Read more
Lumberjack, foreman at the Sawmill. Read more
Kamenotsev, foreman at Kamenolomnaya. Read more
Miner, foreman at the Mine. Read more
Handyman, experienced handyman, foreman, coachman, freight forwarder in the Transport Company. Read more
Sailor in Porto. Read more
Resin smelter, resin foreman at the Shipyard (special conditions of employment). Read more
Apprentice in the Metallurgical Shop. Read more
Nurse at the Hospital. Read more
Assistant, Senior Assistant at the University. Read more
Feldsher, surgeon, and blacksmith in the Principality (temporarily unavailable).
Butcher, foreman at the Meat Factory. Read more
Bearer at the Fair. Read more
Carpenter, stonemason, miner in private enterprises. Read more
My own business:
Common features for all statuses
Purchase of a marten hunting ticket. Read more
Daily rate of energy (endurance)
You have become a full-fledged trained resident of the state! Such a resident should not remain hungry, otherwise he does not have enough energy to do some things. 1 endurance unit is your daily intake.
You can consume food from the Refectory.
You can buy any food at the Commodity Exchange; then, when you go to the Refectory, you'll see it on the list of available meals, choose the quantity you want, and click on "serve.
Next, look at the change in the value of "Total in your refectory" - the value will be measured in units of endurance.
Note, each food has a different caloric value, which is measured in the amount of stamina. For example, 1 kg of bread = 25 stamina units, 1 egg = 3 units.
You are now forced to buy food, but a clone with the status of "Farmer" can produce and sell it.
When you enter the craftsman class, you get 1 unit of stamina - it's enough only until the next day...
Clone Clothes
The artisan can try on the more decent things that can be found at the Fair.
Such clothing is sewn from the fibers of the wonderful plant - "flax" atelier Settlements and Principalities, and therefore has a number of useful properties. Read more
Artisan Clothing will restore 20% of the daily stamina allowance, and give + 1 unit of Intent per day.
You can, of course, wear more luxurious clothes, even Imperial ones, to restore more stamina, but then forget about the "Intent" characteristic! To obtain this characteristic, the clothing must strictly match the status of the clone.
The "Clone Intent" trait is very important, as it increases all other traits of a clone.
However, the Force of Intention can be developed in other ways - in the Refectory for endurance or in the University for gold.
Work options
You have a choice. Go to the "work" section. Here you see many kinds of work activities that you could do. However, you will not be able to get a job in some companies because you need your own tools, some companies' salaries will hardly cover your expenses on food and tools, but you will get precious experience there, you will need it throughout your future development. Experience can be exchanged for a lot of specialized knowledge.
A very important characteristic is "Intent. Wherever you work and whatever you do, the power of intention will increase the quality of any of your skills (increasing the clone's special knowledge). To train the power of Intent, a clone must reside in his own or a rented home. I recommend that you study in detail the ways of developing "Intent," it can help you in the future.
So: Public Enterprises + Private Enterprises - require an additional tool purchase expense. For example, you can get a job at a sawmill as a lumberjack. At this company, you'll get a per diem fixed salary + a bonus + lots of experience. Note that work consumes one more unit of stamina. You can work on several enterprises at the same time, no problem, but you will consume more stamina - 1 unit on each.
And here is an option that does not require additional costs - "Construction". If you take some time and scout the construction sites, you'll probably find a job for the day, maybe a week or two. Here you won't be required to have tools, the princely foremen will provide you with everything. Try to get a salary that's enough for both food and "saving up."
You could also work as a butcher carcass gutter, maybe you'd like it there. Personally, just looking at it makes me sick!
Military/Guardian/Bandit
As a craftsman you can start a military career. I recommend starting with security activities, there you can gain military experience, you can participate in combat tournaments… Read more
What? Do you want to rob your neighbor or that bigwig? - you're on your way to robberies, the rugged pirates and bandits will get you up to speed… Read more
The clone will be able to combine security work or robbery with other jobs.
Become a wealthy investor
It should be noted that the first steps toward becoming a wealthy resident became available to you. By making them, you will be able to earn not only with your hands, but also with your "head".
Investor - resident with income from rents, securities, real estate, mines, raw materials… Under "Investor" you can read more about the possibilities. Of course, you can't do these steps with a hole in your pocket. Read more
Let me tell you briefly about the pros of this direction.
Real estate
You can build yourself a roof over your head - start with a simple house, but no one forbids you to build a whole castle! Read more
The clone rests in the built dwelling, regaining some of the stamina expended during the day's work.
A clone can train the Intent trait. Read more
A clone can rent out a home. Read more
Owners of houses are paid various subsidies - state (by the state), the prince (on behalf of the prince if you built a house on his territory), the mayors (if on the territory of the settlement you built a house). Read more
The size of the subsidy depends on where you choose to build, feel free to write a letter to the prince, ask a question of interest, here's a ranking of princes.
The size of the subsidies is regulated by them, the princes and town governors.
But you can establish your own principality and your own megalopolis (I'll tell you about that next). The winds of success are blowing in your sails, soon you will be great too!
To build you need material - the commodity exchange to help you. You can also reconstruct the existing dugout, use the magic elixir "Hospitable shelter," it can be purchased at the Fair.
A craftsman buys resources, but a farmer and above can produce and sell them.
Securities
Securities are a highly profitable business. Read more
Under "Securities" → "Financial Report" you can see basic information about the securities. They bring in a daily income in gold!
You're still taking your first steps, so be more cautious and careful. Don't click a button if you're not sure what action it means. Read the hints, they appear in many places when you hover your mouse cursor.
To you as a peasant
A craftsman is a laborer who most often works for an "uncle. You can't earn much in this social status. We have to hurry to move on. The culmination of your development may be like the light of the brightest star.
The next step is the transition to the next social layer "Peasant. Initial knowledge in the following areas is required: Animal Husbandry, Surveying, Agriculture, Trade.
If you do not have time to earn money for training - you can refill your account and quickly get training. This is one way to save your time. Once trained, you move to the status of "Peasant. Each of these formations costs 2.5 gold coins, for a total of 10 gold coins. Education Psychology for Artisans - Free - Psychology of Success section!
"By the way, you can now use the clone auction, there are often characters with excellent characteristics, I recommend looking…
At the level of a craftsman, you work "for your uncle," and the "uncle" is satisfied with this state of affairs, but is it satisfactory to you?
You can live and develop at the level of a laborer, save gold to gold, but an artisan will not earn much, because all his time is busy… He works hard, not his assets, such as real estate or securities, manufacturing plants...
How does one become rich in such circumstances? - It's a virtual life, but it's similar enough to a real one that you can take a closer look at it through the eyes of a clone...
Try anything that interests you, but remember, you have to grow, get stronger, don't let yourself and your means eat away at you. Gradually you will turn from a fry into a young, hungry shark.
See you when you get stronger and become a peasant! I can tell you a lot of interesting things. Remember, all peasants whose age does not exceed 120 days from the birth of the clone receive an additional daily subsidy from the state of 0.05 gold per day.